Neil got the ball rolling and asked me to join in. I gave it some thought and here's my take on it.
His premise was that people often neglect the basics of their art because they either don't understand the importance or think they've already done enough of them. Odds are these two reasons form the bulk of what causes the problem. On the other hand, I think that to a certain degree the main fault is always with the teacher. If his students don't have good basics, he's the one who failed to teach them. Though there are exceptions to this.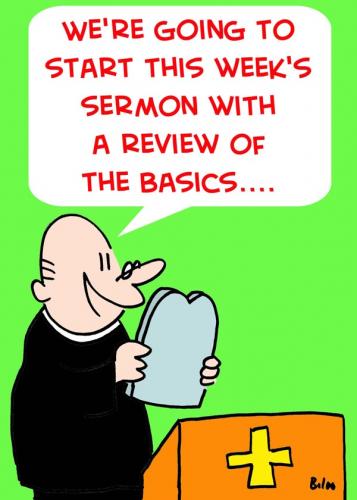 An example

In my Sanshou class, there is a specific progression when a new student starts:
Fighting stance
Basic footwork: forward, back, left, right.
Straight punches: jab and cross.
Straight knees: left and right.
Hook punches: left and right.
Push kick: back leg and step up with front leg.
Round kick: back leg and step up with front leg.
One basic throw and takedown.
The student starts by working in front of a mirror, doing ten reps before switching to another technique. As he won't know many techniques in his first couple classes, he'll do hundreds of straight punches before he even gets to the infamous round kick. Which is the whole point; I want to drill the basic techniques in first.
Back in the "good" old days, we'd do hundreds of reps of the same technique, non-stop. That's just the way it was. In Asia, this still seems to be the way it is done in many styles. In and of itself, that's not a bad thing, on the contrary. I'm a firm believer in doing your reps and the quality of movement in a traditionally trained martial artist is often light years beyond what modern practitioners can show. So this method does work.
The other side of the coin is that in Asia, people seem to accept the fact that you have to train the same thing over and over. And those who don't aren't allowed to protest and have to do it anyway. In the West, we want to know why you do things a certain way and want to have our say in the matter. Try the Asian way over here and you usually end up with very, very few students.
Some people say you should never adapt your teachings to your audience in the name of tradition. I think that's bullshit. I strongly believe you get better results by a combination of ingraining basics with reps but also by adding slight variations as soon as a student performs them well enough.
Back to the example.
It takes about three months before a new student in my sanshou class is ready to join the group. However, that doesn't mean they can only practice the seven points I listed before. As soon as they have a basic mastery of those, they also practice:
Combining the techniques with footwork: stationary striking vs. stepping forward as they strike.
Basic 1-2 combinations with those techniques: jab-cross, jab-R knee, etc.
One basic defense against each of these techniques.
Basic defense plus counter for each technique.
Working with a partner who moves around slowly.
Working on the heavy bag and other equipment.
It varies from one student to another but most of them can absorb these additions pretty easily.  The goal is to have the students practice each of the 8 points from my basics list non-stop for two to three months. Every class starts with revising everything they learned so far (getting the reps in) and then I add one (or several) of the additions from the second list, always checking to see if they can keep up.
This way, they automatically get their reps in but do so in a way that offers tons of variation. At the same time, it prepares them for what they'll need to learn after they master the basics. Because as they're learning these techniques, I start giving them the basic strategies and tactics inherent to the sport and then explain guidelines to learn them:
Basic strategy: hit the other guy and don't get hit.
Basic tactic: either you're attacking, or you're moving out of range. Don't be in range and do nothing.
Basic training guideline: As soon as you can do so in a technically correct manner, step forward as you attack and step away as you retract the last technique.
Every tactic and strategy they'll learn after that is built upon their ability to understand and perform these three basic points. It's only very late in their development as a fighter that I teach them when, why and how to break these rules.
From the get go, the whole process of learning is streamlined to bring them to a point of mastering the basics (at a beginner level) as soon as possible. That means they have to train a certain way, do things in a certain order every single class. As this structure makes them work the basics over and over, though every time from a slightly different angle, progress is usually fast. To avoid messing up this whole process, they are not allowed to improvise unless I explicitly tell them so.
Again, it all fits in a larger whole and as long as they aren't technically proficient enough, as much fun as it can be, free-wheeling only slows down their progress. Basics come first.
It isn't always honey and rainbows.
That said, not every student gets it and sometimes, I can't change that. Some of them see the class as just something else to do in their lives. They're basically just filling their time and using up oxygen. Most of those don't last long in my class because they don't want to put the effort in. That's OK by me; I changed my approach to teaching a while ago to this:
Everybody trains for different reasons. Some of these similar to or the same as mine, others for different ones. As a teacher, I'll try and help all students, regardless of their motivations to come to class.
However, I expect students to do as instructed to the best of their abilities, whatever these may be. If they don't, then I'll try to explain them the reasons why. Or at the very least say "It'll avoid problems later on in your practice of the art."
Students who take instruction well and practice hard get even more material and information to work with. Those who don't get very little, if any. Each student decides for himself how hard he woks and therefor the pace of his progress is determined by him, not me.
If at the end of the day, a student doesn't have solid basics then he's either going to have to keep on working on them in class, not learning much else.  Or he'll eventually drop out. Not only because he'll get tired of practicing those basics (regardless of how much variety I put in there), he'll also be unable to perform any technique that is slightly more difficult than a "mere" basic. While all the other students, the ones who trained as instructed, will have no problem with such techniques..
.